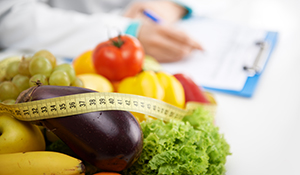 College Park Family Care is pleased to have a Nutrition Services Department to complement our primary care services. Nutrition plays a foundational role in the prevention and treatment of many of the common conditions and chronic diseases that are seen in a primary care setting. College Park Family Care providers believe the healthcare system should put an emphasis on nutrition when treating and managing chronic diseases. To provide dietary intervention, our well trained dietitian's are available at all 7 of the College Park Family Care locations for easy patient access.
Conditions We Treat
We provide Medical Nutrition Therapy for the prevention and treatment of:
Alzheimer's Disease
Celiac and gluten sensitivity
Crohn's Disease
Diarrhea
Eating Disorders: Anorexia Nervosa, Bulimia, Orthorexia
Hashimoto's thyroiditis
Hypothyroidism and Hyperthyroidism
Kidney Disease
Multiple Sclerosis
Osteoarthritis
Osteoporosis
Psoriasis
Sjogren's Disease
Weight Loss (Medical Nutrition Therapy)
Constipation
Diabetes: Pre, Type 1 and 2, Gestational
GERD
Heart Disease
IBS
Metabolic Syndrome
Osteopenia
Parkinson's Disease
Rheumatoid Arthritis
Ulcerative Colitis
Overview of Services
The College Park Family Care Nutrition Services Department offers individual consultations with a dietitian along with options for classes and support groups.
Initial visits vary from 45-60 minutes depending on the diagnosis or reason for visit. An initial visit involves a comprehensive assessment of a patient's medical, diet and lifestyle history. It is very important to have a current medication and supplement list available for review at this visit.
Follow up visits vary from 15-30 minutes as directed by the dietitian after your initial visits. For best outcomes, bring any diet, exercise and blood sugar logs to every visit as directed.
Most patients benefit from 3-6 visits over the course of 3-6 months for best results.
Nutrition Classes
With a focus on heart health and diabetes prevention, the dietitian team at College Park Family Care has created foundational classes to equip our patients and families with the updated information and tools they need to prevent the occurrence, or slow the progression of heart disease and/or diabetes.
Class #1: Healthy Heart Class
Schedule: Meet Once Per Month
This class helps you understand your personal risk for heart disease:
Learn how to replace unhealthy fats in your diet with heart healthy protective fats.
Strategies for improving your total and LDL cholesterol levels.
Class #2: Prediabetes/Metabolic Syndrome Class
Schedule: Meet Once Per Month
This class helps you understand the early stages in the development of diabetes and the keys to preventing and treating it with balanced diet and lifestyle:
Understand how to balance quality carbohydrates with lean proteins and healthy fats.
Strategies for decreasing triglycerides and reducing insulin resistance.
Class #3: GI Foundations Class
Schedule: Meet Once Per Month
Join us as we take a functional tour of the digestive system while highlighting simple diet and lifestyle changes that can correct digestive imbalances and can powerfully impact:
The common symptoms of GI distress like constipation, diarrhea and stomach pain.
The less common symptoms of faulty digestion including fatigue, headaches/migraines, eczema, psoriasis, hives, anxiety, sleep disorders.
All classes are from 7-8:30pm at the College Park Family Care - Specialty Center. The cost is $25 per person with an option to bring a spouse or one family member for free to support you in your diet and lifestyle changes. Class fee is accepted at the beginning of class. Personal check or charge/debit card only please.
Please call (913) 681-8866, to register for any classes
Support Group
FREE Diabetes Support Group
Schedule: Meet Once Per Month
Making diet and lifestyle changes and living with diabetes can be difficult, and it helps to know someone is on your side. In fact, research shows that sharing experiences in groups can reduce the burden of living with diabetes and impact behavior changes that can slow the progression or prevent onset of Type 2 Diabetes. Patients with pre-diabetes can benefit from joining this monthly support group as well.
This support group meets on the third Tuesday monthly from 7-8 pm at the College Park Family Care - Specialty Center.
Your doctor may recommended that you see a Registered Dietitian Nutritionist (RDN) for medical nutrition therapy a part of your treatment plan. Medical Nutrition Therapy (MNT) can be very effective as a foundational part of the treatment of various health conditions and College Park has a 30+ year history of providing this dietitian service to the patients we serve.
College Park Family Care wants you to be aware of the billing process and your options. Many private insurance companies have specific guidelines for dietitian visits but each plan may vary as to if and how many visits they will cover.
If you find you do not have Medical Nutritional Therapy coverage and do not want to pay the self-pay rates, attending a dietary class is another economical option. If you find you do not have Medical Nutritional Therapy coverage and do not want to pay the self-pay rates, attending a dietary class is another economical option. We currently have the following classes available:
Healthy Heart – Addresses elevated cholesterol
Metabolic/Pre Diabetes – Addresses elevated triglycerides and pre-diabetes
GI Foundations - Addresses various gastrointestinal issues like heartburn, IBS diarrhea, constipation, Crohn's, ulcerative colitis, diverticulitis, headaches, migraines, skin issues, fibromyalgia, chronic fatigue and various autoimmune diseases
Free Monthly Pre-Diabetes & Diabetes Support Group
Current class pricing is $25 per person with ability to bring a family member for support for FREE.
We will do our best to let you know your insurance coverage so you know your financial obligation prior to your visit with one of our dietitians. However, it is recommended that you contact your insurance carrier for your plan specific benefits.
If you would like to verify MNT/dietician coverage with your particular plan, call the customer service number listed on your insurance card. The following information may need to be provided when verifying coverage.
NPI# 1760798540
Tax ID # 800505355
CPT Codes: 97802, 97803
Diagnosis Codes: Contact your provider and ask for the diagnosis codes listed in your referral. If applicable, have your provider add a BMI code if your BMI is over 25. This can help with coverage of MNT visits for some insurance plans.