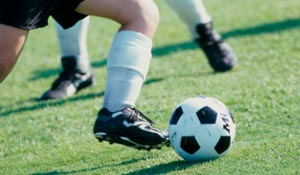 The Orthopedics and Sports Medicine team at College Park Family Care is focused on the care and treatment of sports medicine and orthopedic injuries and conditions. Led by board-certified specialist, Dr. Dan Gurley.
Dr. Gurley has over 15 years of extensive training as well as on-the-field experience. He has served as the team physician for the University of Missouri at Kansas City as well as Blue Valley High School and treats athletes throughout Johnson County and the Greater Kansas City area.
Conditions We Treat
We see a wide variety of sports and orthopedics injuries including:
Shoulder: rotator cuff tears, dislocations, instability, biceps, arthritis
Elbow: tennis elbow, golfer's elbow, Tommy John, arthritis, biceps
Knee: ACL, meniscus, instability, dislocation
Under Knee: Joint replacement, arthroscopic knee
Hip: total hip replacement (SuperPath method)
Hand: carpal tunnel syndrome
How to Make an Appointment
To make an appointment with our orthopedic and sports medicine team, please call (913) 469-6447.
What to Bring
Please bring any X-Rays, CT or MRI scans of your injury.