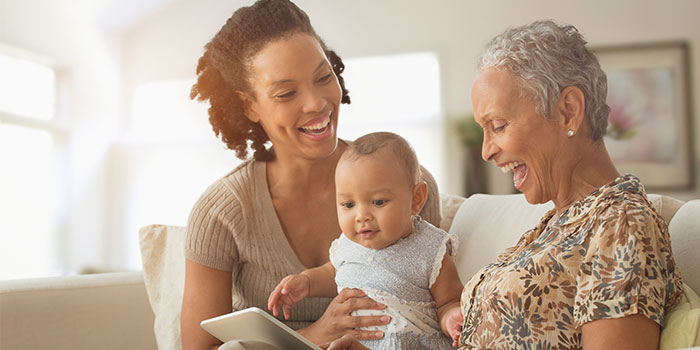 The family and women's health physicians of College Park Family Care are committed to offering compassionate, personalized, and comprehensive care to meet the needs of women at all stages of life.
At College Park Family Care, we offer a team of doctors and highly trained support staff with a goal of delivering exceptional care for women of all ages. Their expertise and experience includes well-woman exams, menstrual issues, prenatal, and childbirth care to management of menopause symptoms.
Convenience and easy access
Most insurance plans accepted
Convenient online scheduling
Patient Portal: Providing you access to your medical records, prescription refills, secure messaging with your provider and more. Anytime, from anywhere. Also, our Healow mobile app gives you on-the-go access to your information.
Fast appointment availability for routine care and quick access to physicians when needed for problems or emergencies.
Our women's care services
The College Park Family Care team of women's specialists believes in partnering with the women in our care for their best health and that of their families. Our goal is to provide you with the resources and support to make the health decisions that best meet your needs. Our care includes:
Prenatal care – From conception until your baby is delivered, we closely follow your pregnancy, with comprehensive prenatal screening tests, prenatal counseling and regular visits and ultrasound. And note: The physician you see for prenatal care will be the same physician to deliver your baby.
Childbirth – Pregnancy and childbirth are unique experiences for each woman, and we do our best to help you have the birth experience you want, while keeping you and your baby safe.
Ongoing care – We continue to provide ongoing care for mother and baby in a comfortable, familiar environment.
Menopause – We understand the frustrations and discomfort of menopause symptoms, and offer progressive treatments to help women manage them and enjoy the best possible quality of life.
Gynecologic care – We offer well-woman check-ups including routine lab and blood work such as pap smears and other testing as appropriate, as well as care for gynecologic issues such as endometriosis and other conditions.
Fertility – When pregnancy doesn't happen as quickly or easily as hoped, our physicians work with couples to understand fertility issues and overcome barriers to childbirth. When necessary and appropriate, we will connect women with fertility specialists.
Menstruation – Our doctors are experienced in helping women manage irregular periods, PMS, and other menstrual cycle problems.
Contraception – We are up-to-date on the latest types of birth control and work with each patient to determine the best form of contraception.
Preconception counseling – We encourage patients to visit as soon as they decide to begin trying to get pregnant. Our pre-pregnancy counseling ranges from how to get pregnant to nutritional and lifestyle choices, and habits for a healthy pregnancy.