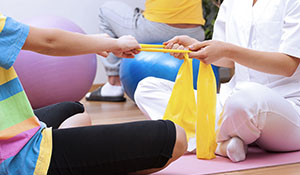 College Park Family Care is proud to have a Functional Medicine Clinic as part of their primary care services. This clinic offers an integration of systems biology and complimentary therapies along with the traditional medical approach. While some individuals experience full remission with conventional approaches, many people may benefit from a more holistic approach to optimize their health outcomes. The Functional Medicine approach looks at the whole person. This healthcare approach is grounded in the following principles: biochemical individuality, patient-centered care, balancing each patient's physiological pathways while empowering the patient to be an active part of their treatment plan using personalized nutrition support, diet and exercise.
A comprehensive and thorough analysis of your symptoms.
You, the patient, are the center of the Functional Medicine process— not a diagnosis or a disease. Our Functional Medicine trained practitioners spend time listening to your health history and evaluating the interactions among your genetic, environmental and lifestyle factors that may be influencing your current health status. We use a comprehensive intake questionnaire, a physical exam and a combination of traditional and some alternative laboratory analysis to gather a complete picture of how your body systems are functioning. Our providers attempt to look "upstream" to consider the root causes of your health issues rather than symptom management.
Learn more about Functional Medicine.
Conditions We Treat
Functional Medicine helps relieve, and in many cases reverse, a variety of symptoms and diseases. Here is a list of common conditions we serve:
Autoimmune Disorders
Chronic Pain
Diabetes
Hormone Imbalances
Metabolic Disorders
Muscle Imbalances
Physical Rehabilitation
Rheumatoid and Osteoarthritis
Chronic Fatigue
Depression and Care
Fibromyalgia
Irritable Bowel Syndrome
Multiple Sclerosis
Nutritional Imbalances
Psychological Support
Sleep Disturbances